Starting today, you can now send reports as PDF documents. PDF files are great for storing in document management systems and can't be easily changed.
Despite our claims to the contrary, a new feature has made it into Calcapp in December: PDF reports. This feature is available immediately. Make the appropriate selection in the inspector in Calcapp Creator and your reports are sent as PDF documents: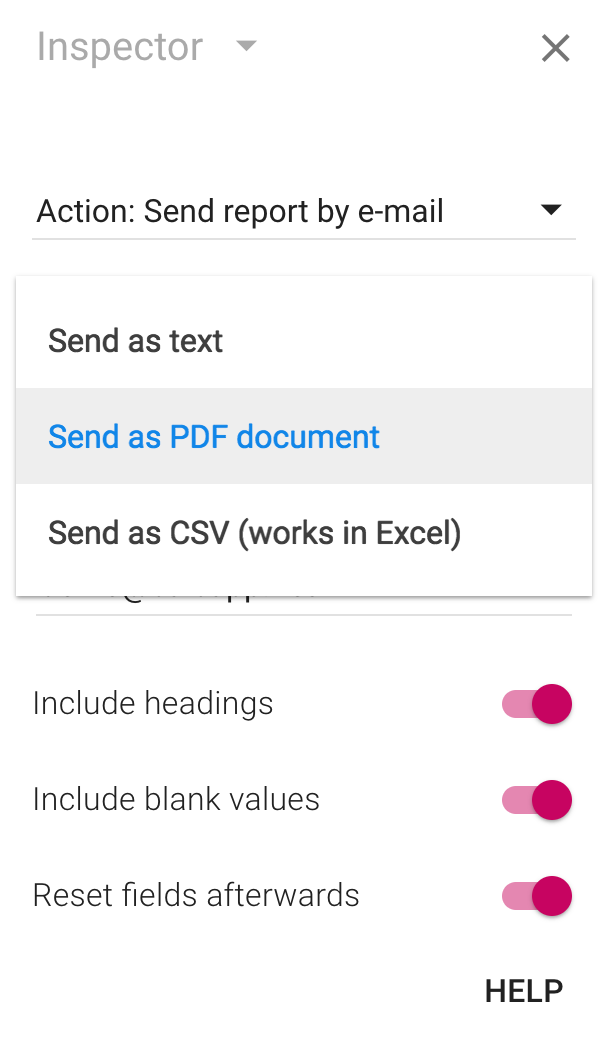 If you elect to have your report sent as a PDF document, the actual data is sent as a PDF file attached to the email. The styling of the document is currently very plain.
Enabling PDF reports has been on our roadmap for a long time now. We originally assumed that the only true use case for PDF reports was for elaborate, stylish reports sent to end users. (This would enable salespeople to send offers directly to prospects after a sales meeting, for instance.) We have since learned that PDF reports are attractive even when they are sent back to the office, as it enables data to be easily stored in document management systems. Another attractive feature is that PDF files are harder to modify than, say, emailed data or CSV files.
We do still want to enable you to send stylish reports, and not just back to the office. In order for you to be able to send reports to email addresses entered in the app itself, we need to enable calculated properties, which we're currently working on. That way, you'll be able to use a formula attached to a button to determine the recipients of your report and that formula can then reference a field in the app where you enter said recipients. Also, we'd like to offer a report designer, enabling you to design stylish reports (with custom images and fonts). That, however, is further into the future.