New users can now try out Calcapp without providing their email address and without having to wait for a confirmation email.
Ever since we launched the first beta version, signing up for a Calcapp account has involved going to our home page, entering your email address and waiting for a confirmation email enabling you to sign in. That process hasn't been ideal for all users.
When we discover a new product, we want to learn if it's right for us with as little hassle as possible. We don't want to part with our email address or wait for a confirmation email arriving minutes later. In fact, our records show that fully 35 percent of all users who have signed up for Calcapp have not clicked the link in the confirmation email.
Starting today, we are revamping the sign-up process to reduce as much friction as possible. We want users to be able to experience Calcapp mere seconds after discovering it so that they can determine if it's the right product for them.
To that end, the new home page now features a button inviting users to start the app designer: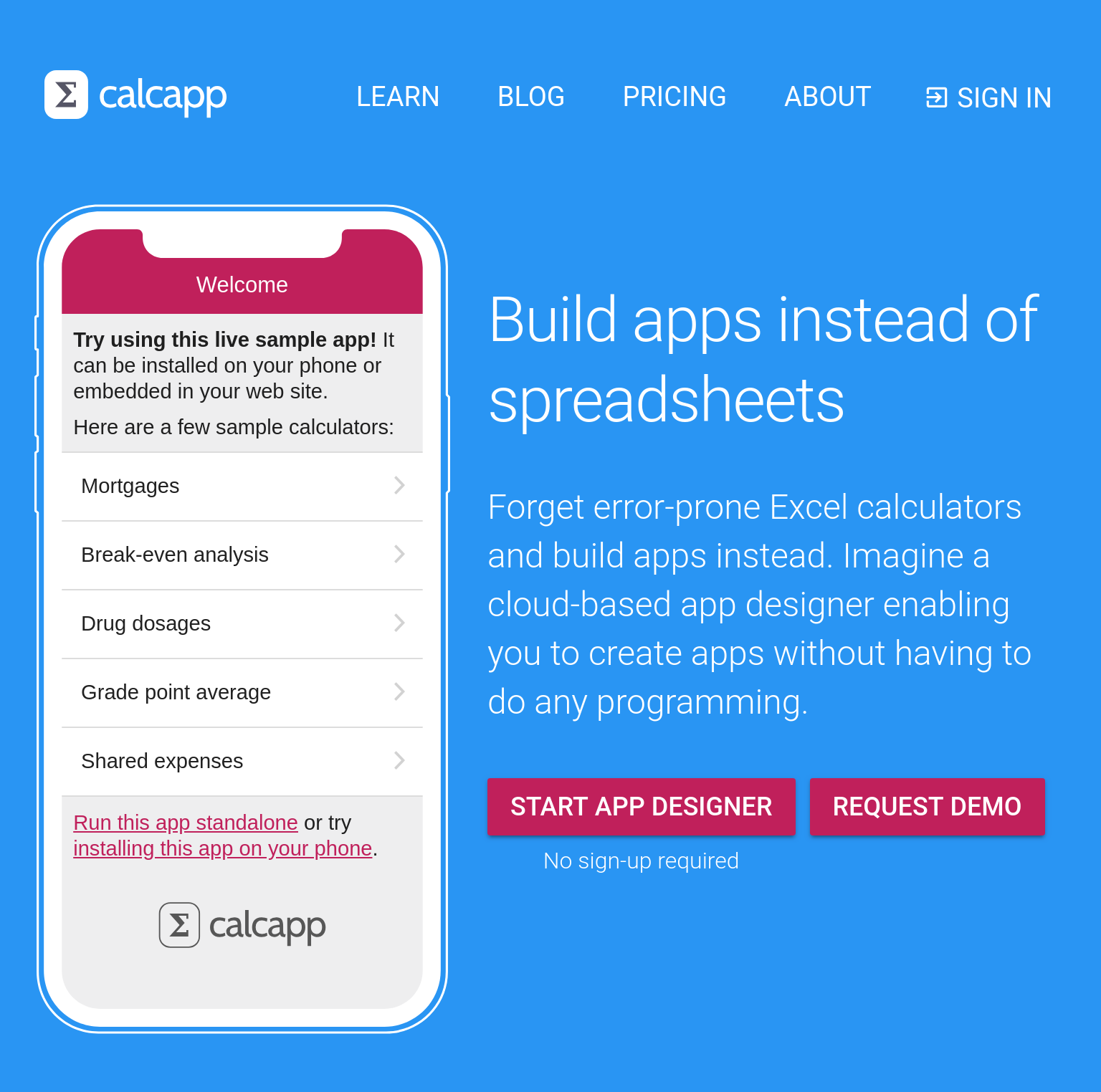 You'll also notice that there is a new sample app you can experiment with that replaces the static app images that were there before. (These images were created back in 2014 before there was a real product.)
If you click the Start app designer button, Calcapp Creator loads in a new tab: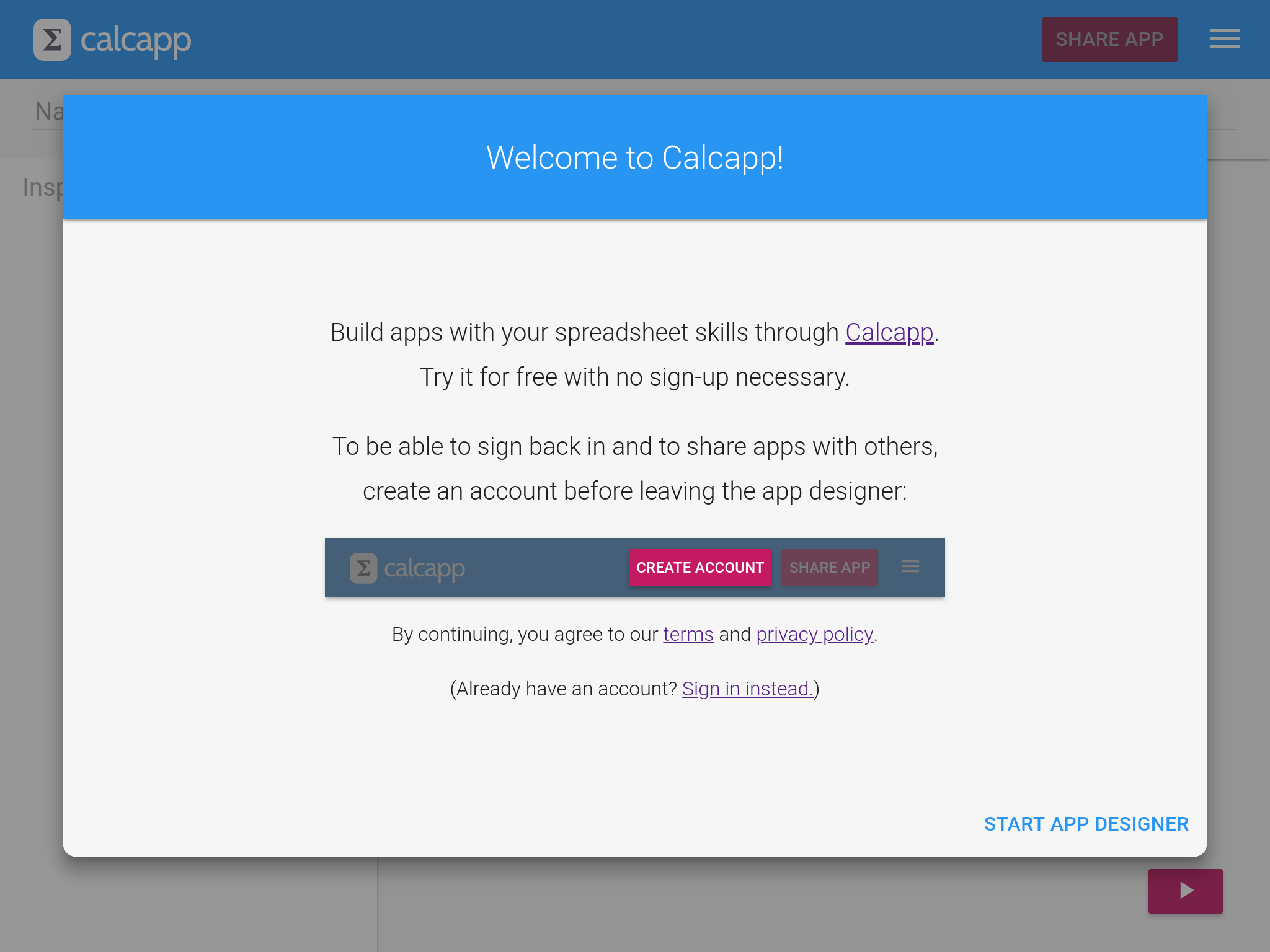 To start creating apps, just press the single button. You'll notice that the button that normally displays your email address has been replaced by a button whose label reads Create account: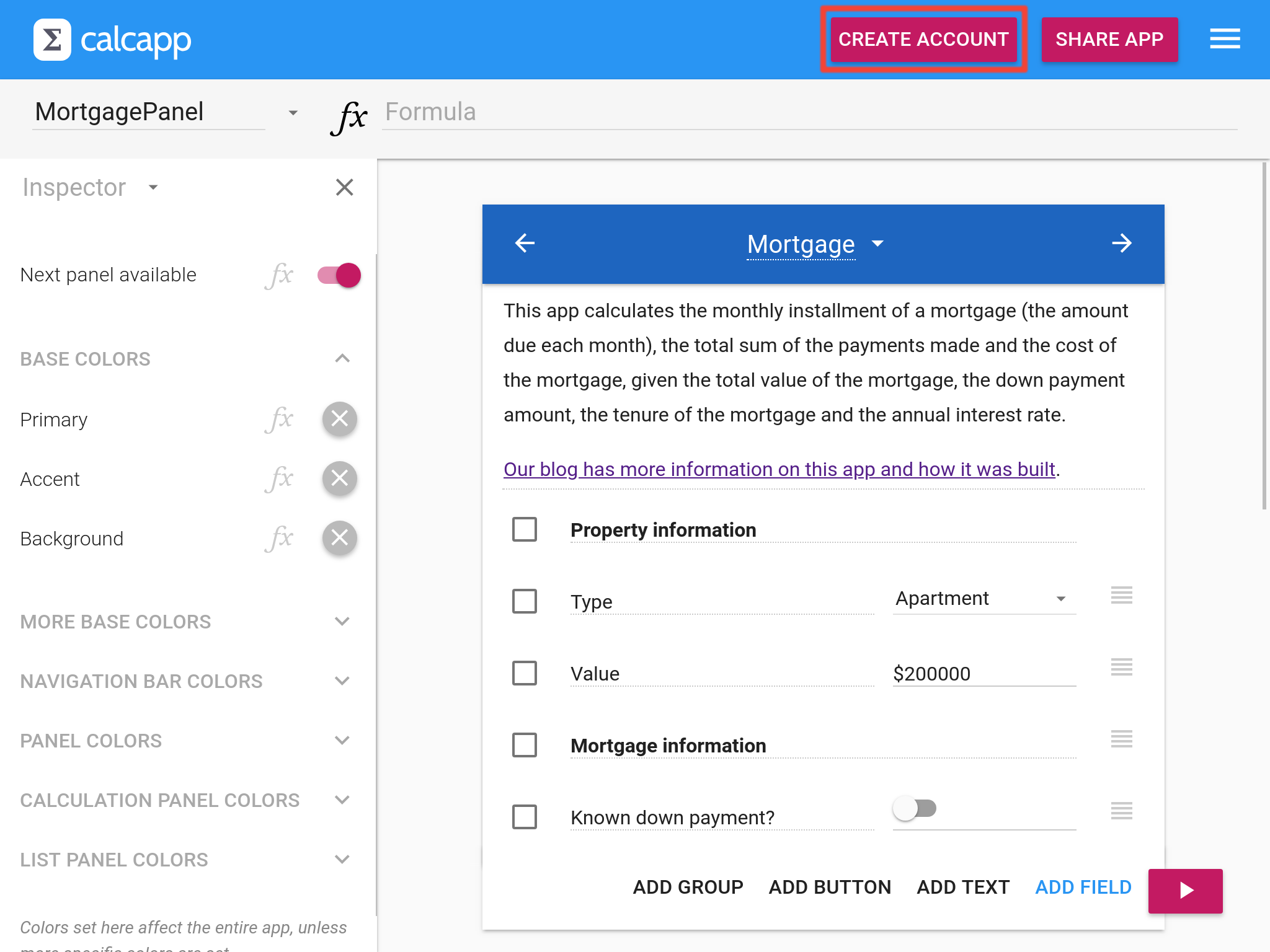 Without an account, you can build apps and preview them using the preview sidebar. You cannot, however, share apps. This is what happens if you try to do so: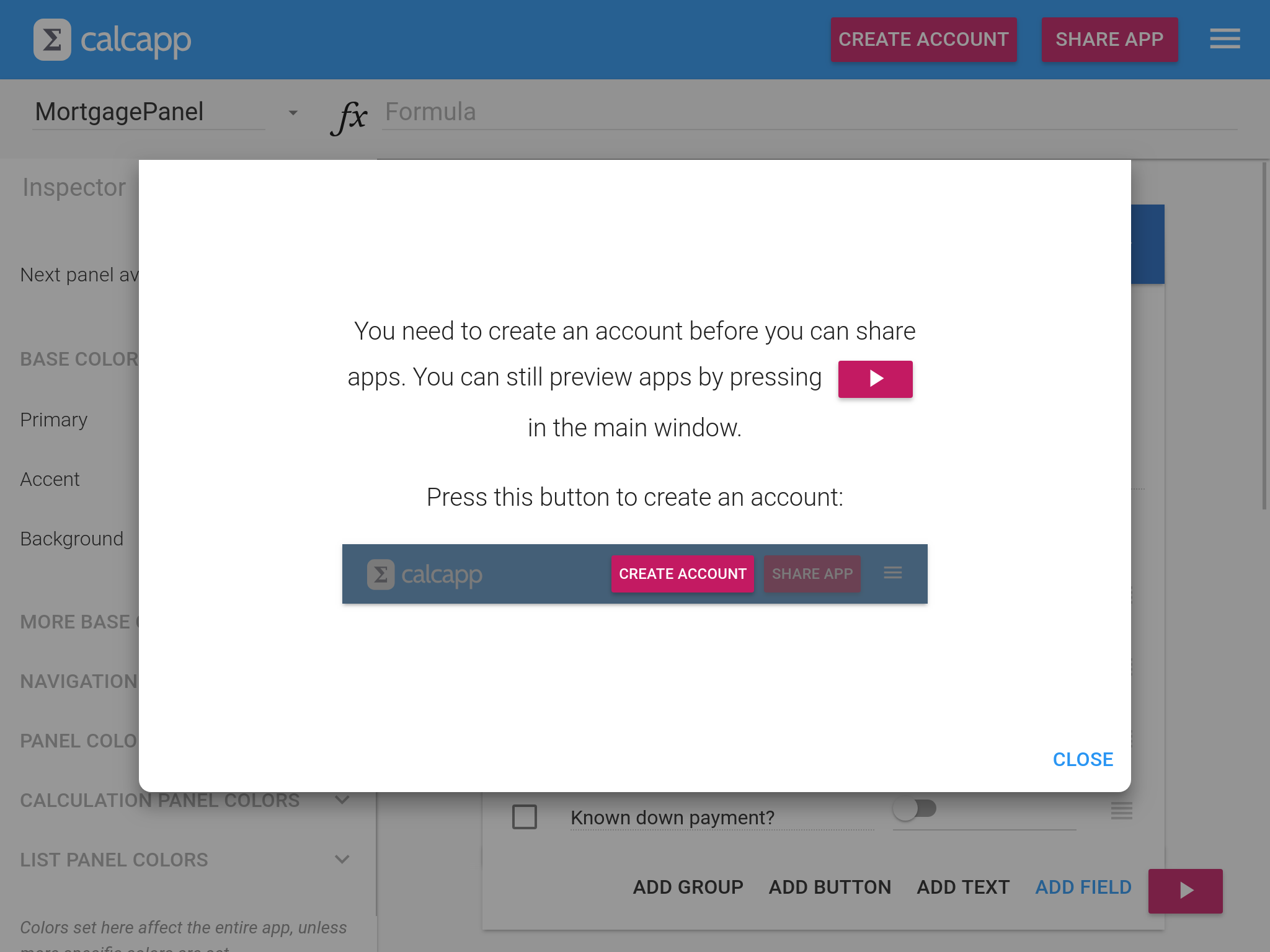 To be able to sign back in and access the apps you have built and to share apps, you need to create an account by pressing the aforementioned button: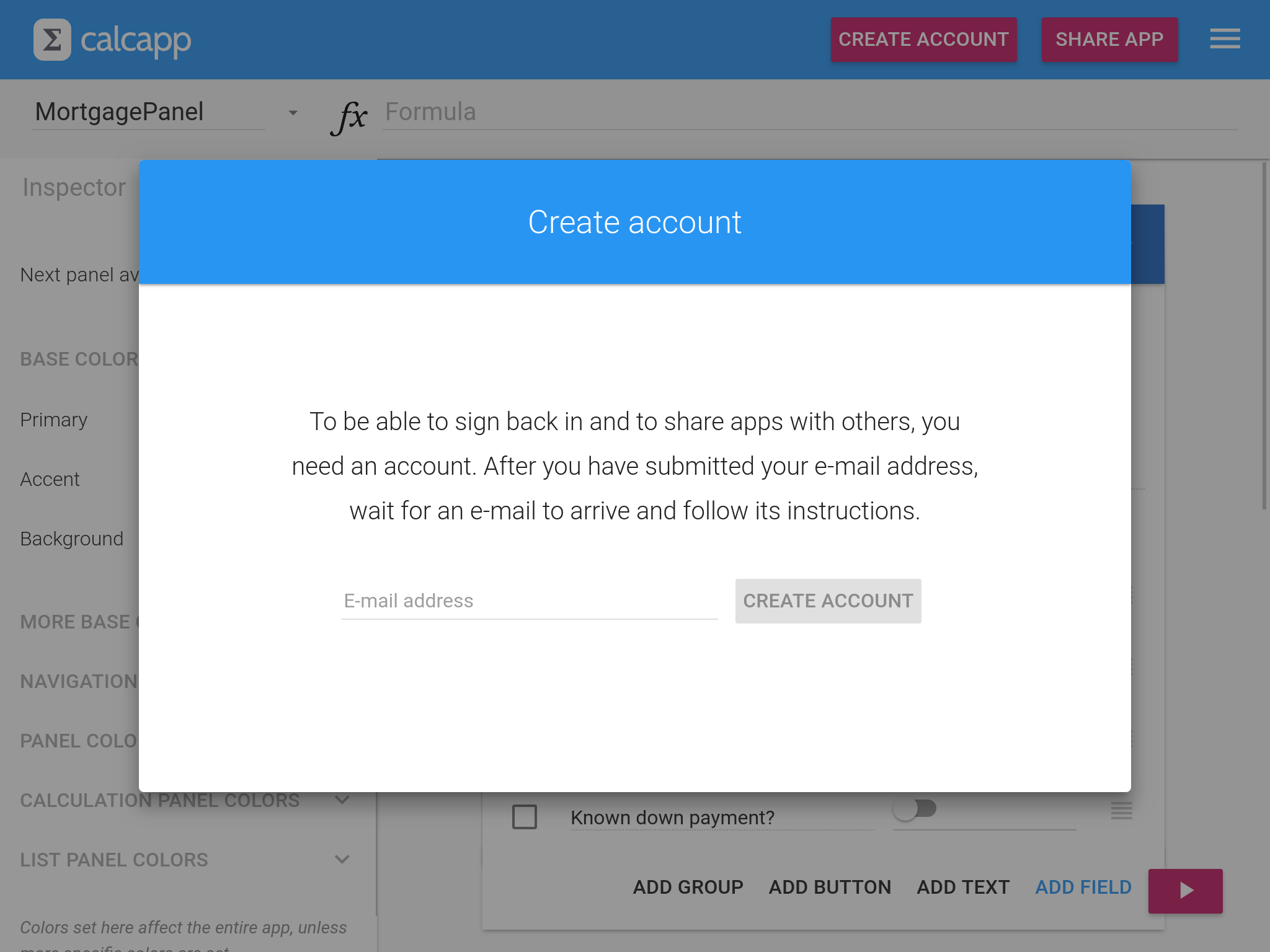 While you wait for the confirmation email to arrive, you can continue building your app. Once the email arrives, just click the link to associate the apps you have built with your newly-created account. You'll then also get an opportunity to select a password for your account and to determine if you want to subscribe to our newsletter: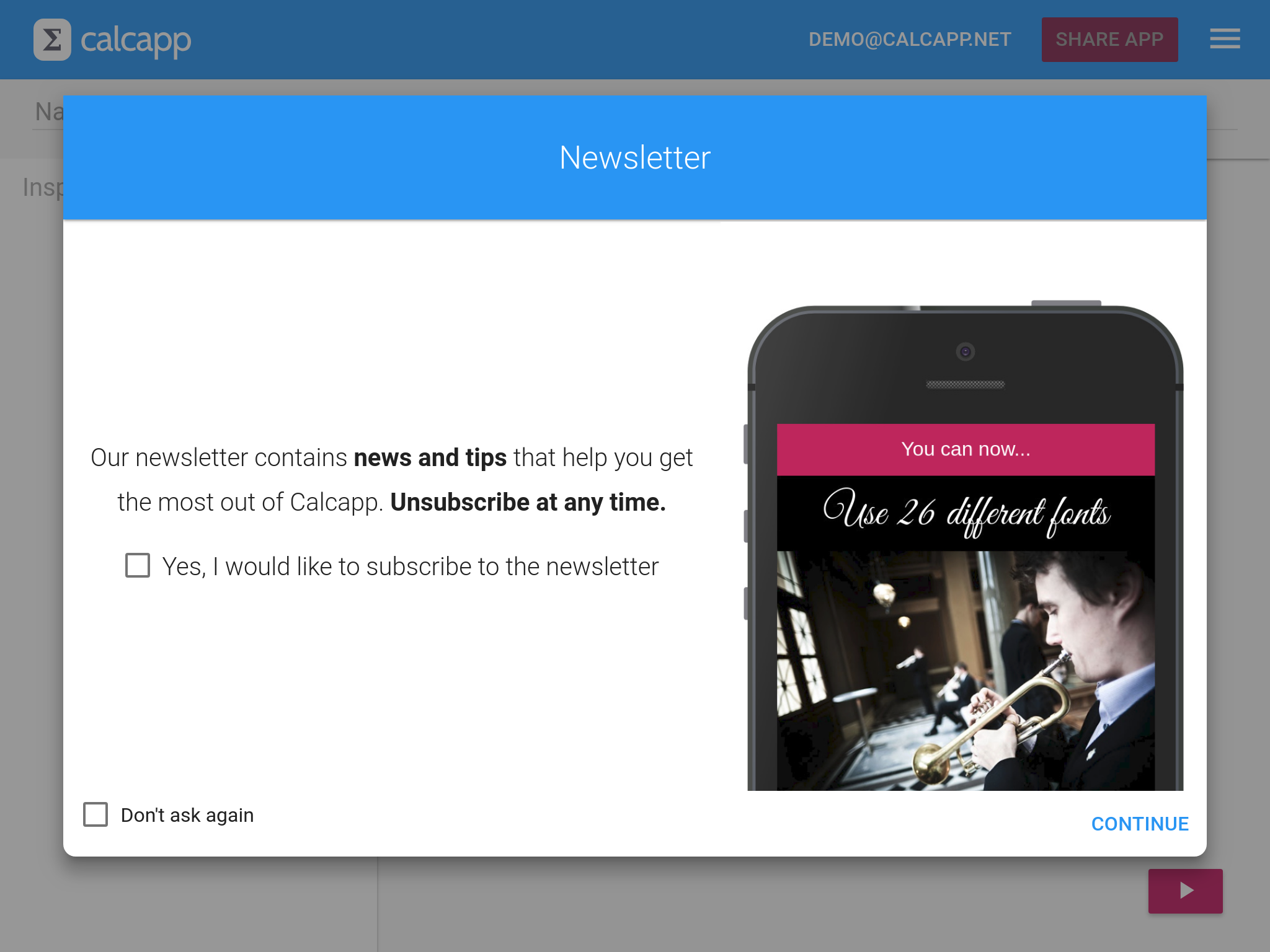 On the right-hand side is a sample newsletter and on the left-hand side is the checkbox you click to signal that you want to subscribe. It is unchecked by default.
If you don't want to subscribe and not be given the opportunity again as part of the sign-in process, check the Don't ask again checkbox. To change your mind, use the new account settings box.
We're hoping that this improved process will make it much easier for new users to try Calcapp out.