Calcapp now supports paid plans and we are ending our beta program. To ensure that your apps continue working, upgrade them to a paid plan before May 14. This post walks you through the steps you need to take to upgrade your apps.
After a long beta period, we're happy to announce that Calcapp is now ready for production and that we're ending the beta program. We couldn't have gotten here without all our beta testers, whose feedback has been instrumental in shaping Calcapp. Thank you.
Your account is now a trial account, meaning that you will continue to have unlimited access to Calcapp for another month. To ensure that your apps continue working, upgrade them to a paid plan before May 14.
Apps you don't upgrade to a paid plan will be on our Free plan after May 14.
Learn more about our pricing »
What's in the Free plan?
When your trial expires, apps not on a paid plan will remain fully accessible through Calcapp Creator (the app designer) and Calcapp Connect (used by app creators to run their own apps). That means that personal apps will continue to run through Calcapp Connect.
However, apps shared with others will need to be on a paid plan.
Many users duplicate their apps in order to create backup copies and save archival versions. Duplicates are by default on the Free plan. This means that you can make an unlimited number of copies of your apps at no extra cost.
How do we upgrade to a paid plan?
To upgrade, open your app in Calcapp Creator. Then, press the Change plan button in the inspector: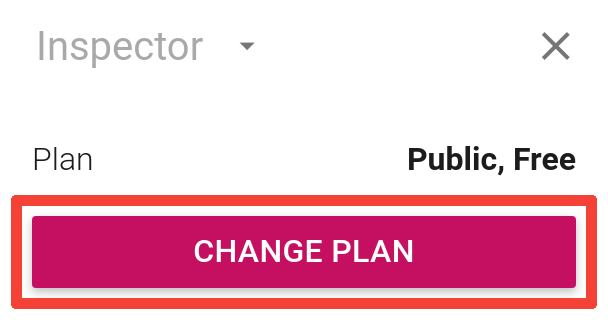 This window is shown: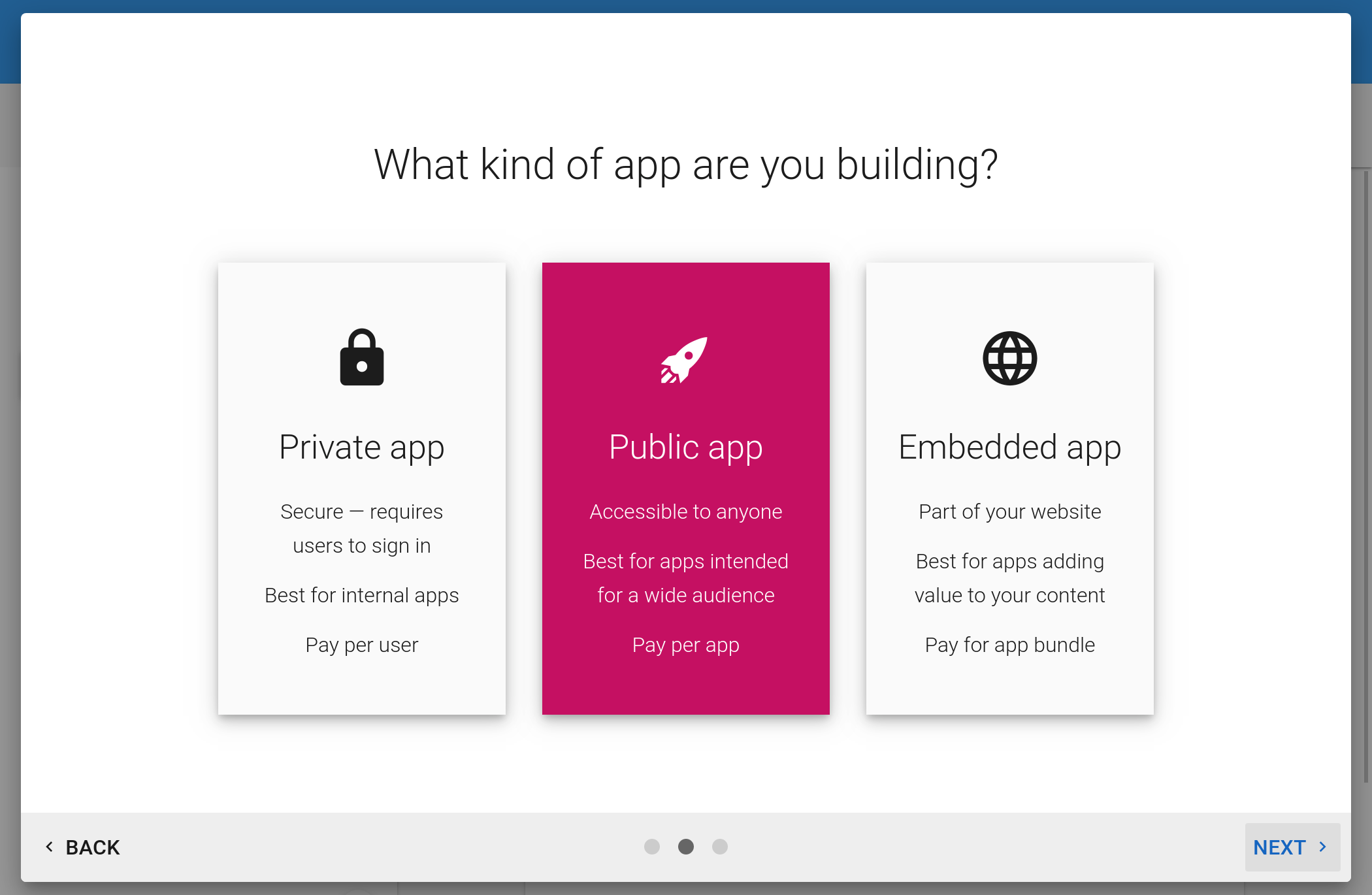 Private apps require your users to sign in before gaining access to your app (learn more about private apps). Public apps are accessible to anyone with the app link. (All apps during the beta period were effectively public apps.) Embedded apps are meant to be embedded in your website and cannot run as standalone apps.
With public apps, you pay per app. With private apps, you pay per user and can use an unlimited number of apps, meaning that all private apps share the same private plan. For private apps, we only count active users (defined as "having signed in at least once during a single calendar month"). That means that if you define 100 users, but think that only ten or fewer users will sign in during a single calendar month, you only pay for ten.
Similarly, all embedded apps share the same embedded plan, but that plan limits the number of embedded apps that can be put on it. (Private and public apps can also be embedded, but the embedded plan is more cost-effective for sites with many apps.)
Press Next and select your plan, the currency you want to use and whether you want to be billed monthly or annually. Here are the plans for public apps: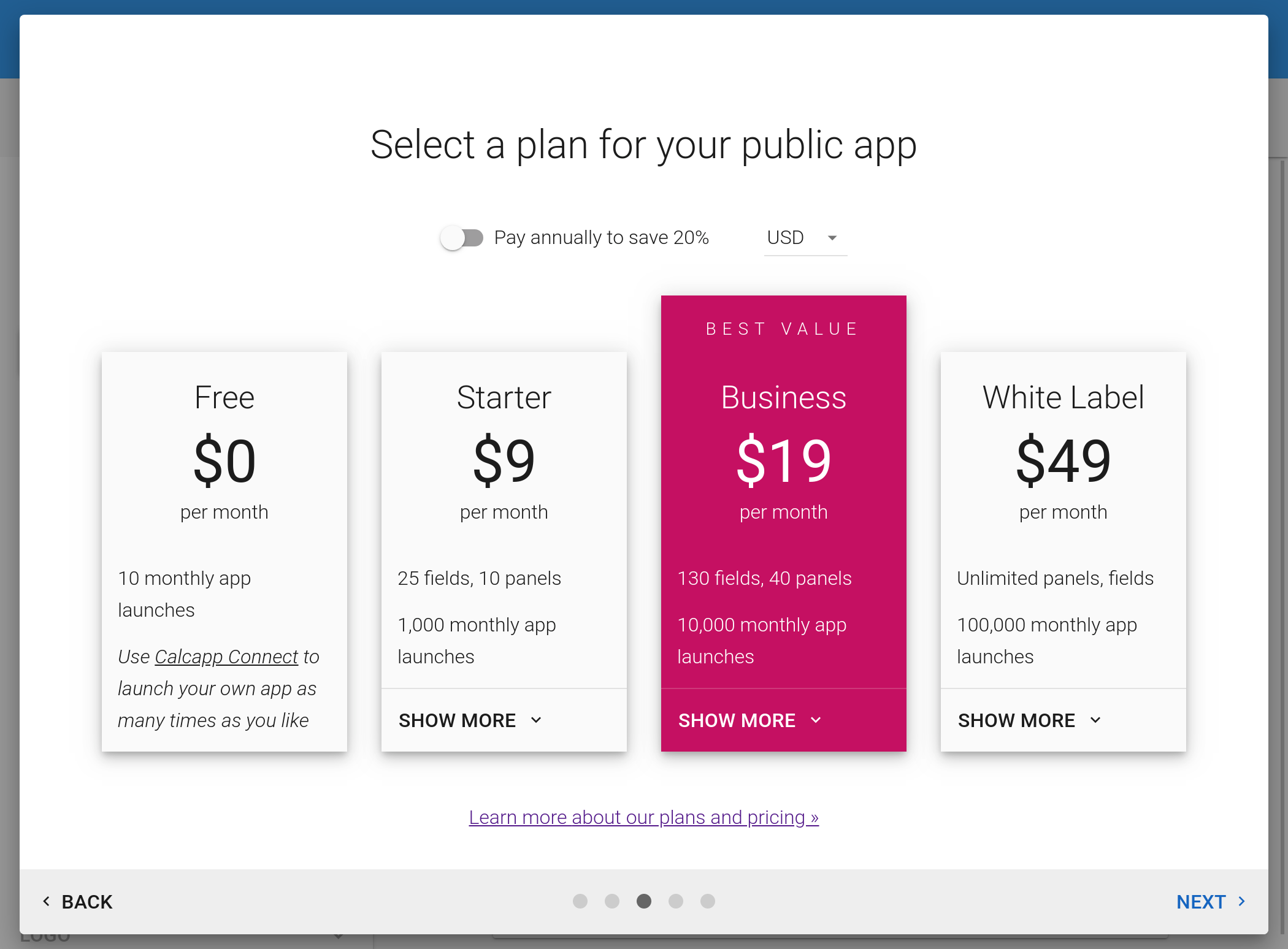 Plans differ in terms of the number of monthly app launches, reports and service calls they support. (A service call is a call to a third-party service like Zapier that can help your apps integrate with services like Google Sheets, Slack and Trello.) They also differ in terms of how many panels and fields they support and what extra features they offer. (Hidden fields are not counted.)
The Starter plan is great for simple apps used by small teams with a small number of fields and panels. The Business plan is right for the vast majority of apps and allows for much bigger apps which can be launched more frequently and support sending a larger number of reports. The White Label plan is for apps which are larger than allowed by the Business plan and where you want to control all branding aspects. (Apps on the other plans mention Calcapp in the apps themselves.)
If you're interesting in making a very large deployment or have other needs that go beyond what our current plans offer (such as running apps from your own data center, extended support needs or you require a service level agreement), ask our sales team about our corporate and enterprise plans.
After pressing Next, you are asked to provide your billing details: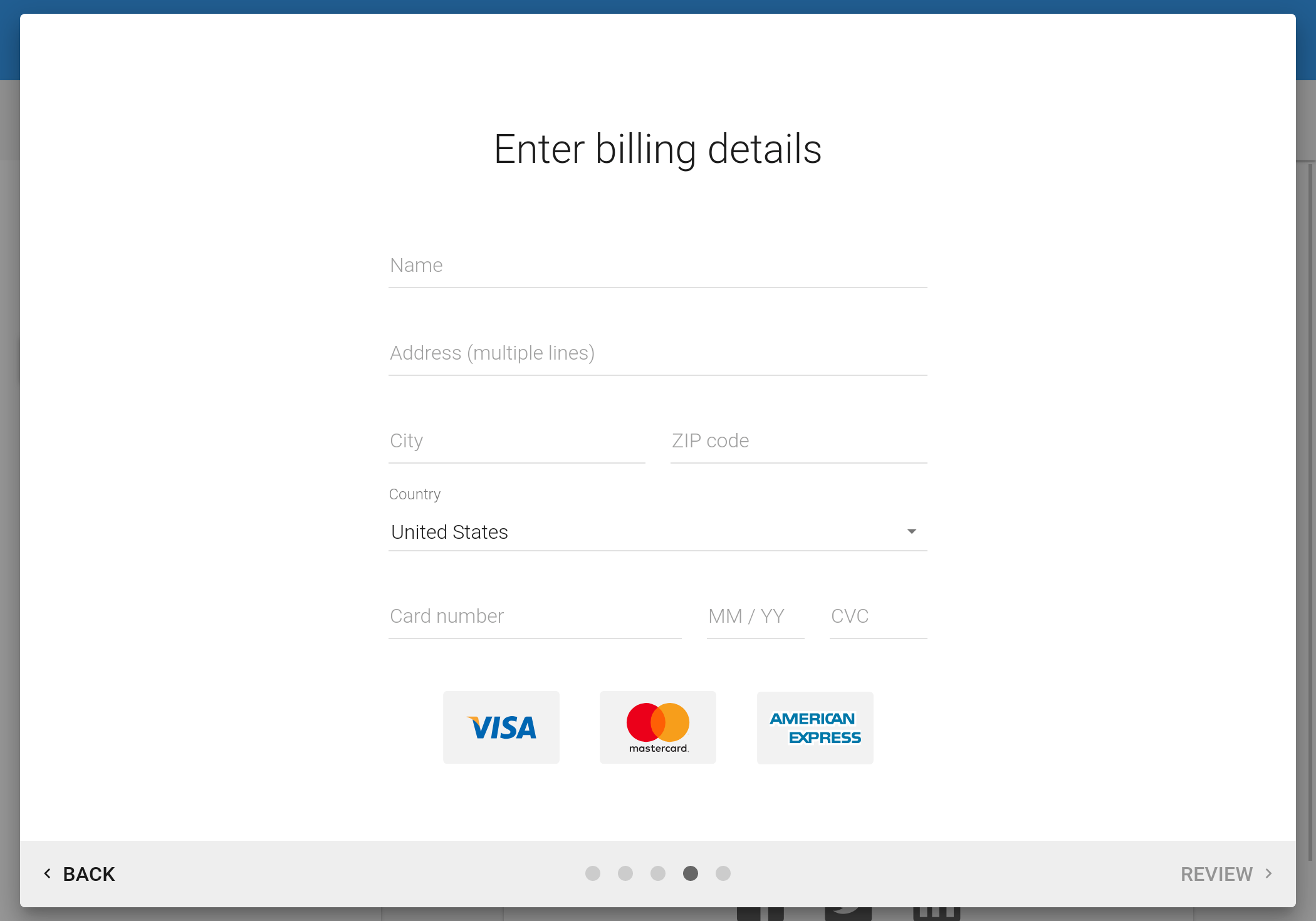 Let us know if you'd like support for more payment methods than VISA, MasterCard and American Express (such as PayPal). Make sure you enter your VAT number if you represent a business in Europe to prevent VAT from being added to your bill.
We are not privy to your credit card details. This information is collected by our payment provider, Stripe, and not us. (While those fields appear to be part of Calcapp Creator, they are hosted by Stripe.)
Your credit card will only be charged once your trial expires. To view your invoices, select View invoices… from the main menu
Finally, press Next to review your changes: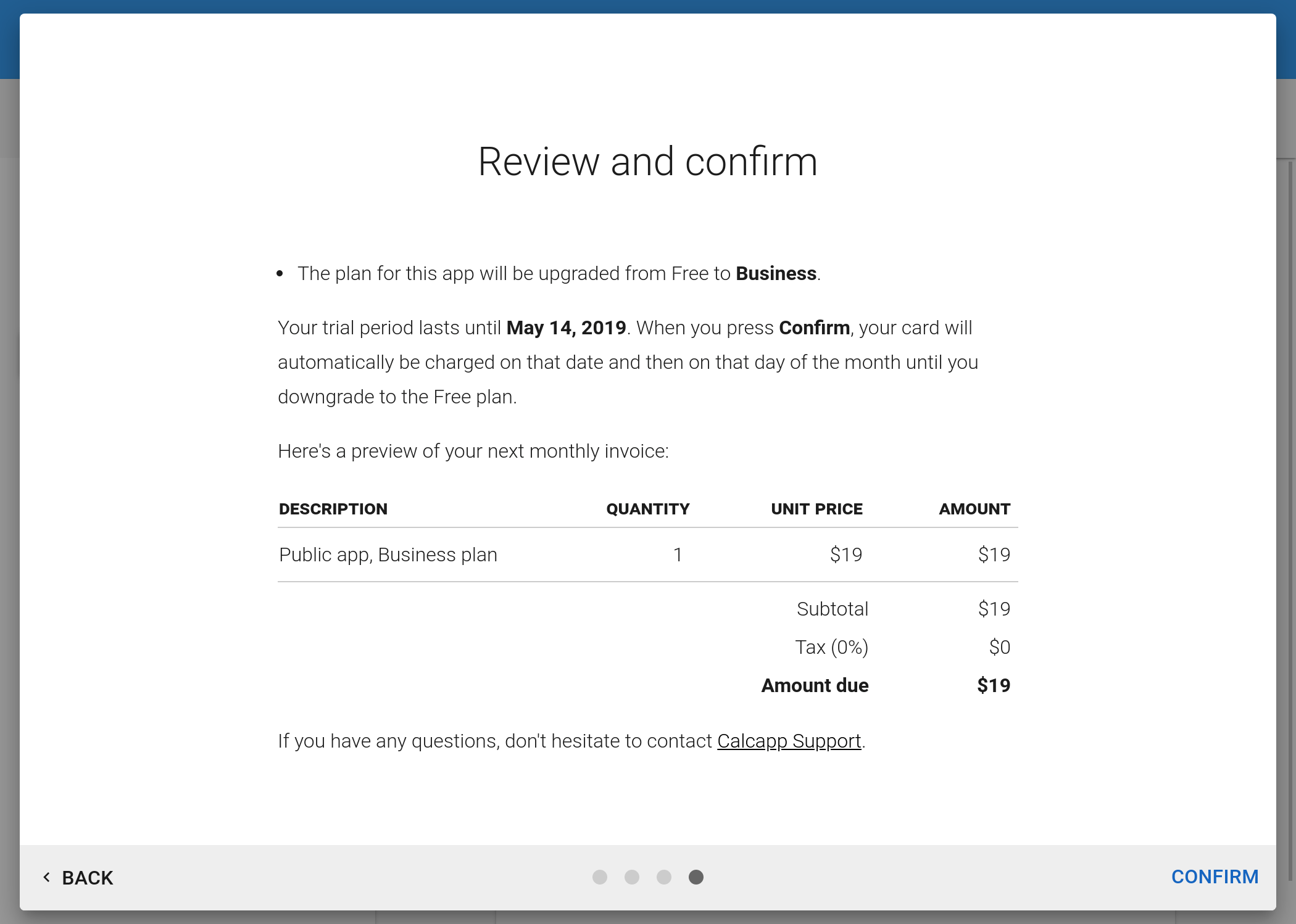 If everything looks good, press Confirm to confirm your order. If you have any questions, let us know.
How do we determine how many app launches and reports we need?
Use the new Statistics window to determine the number of times your app is launched and the number of reports that are sent during the trial period: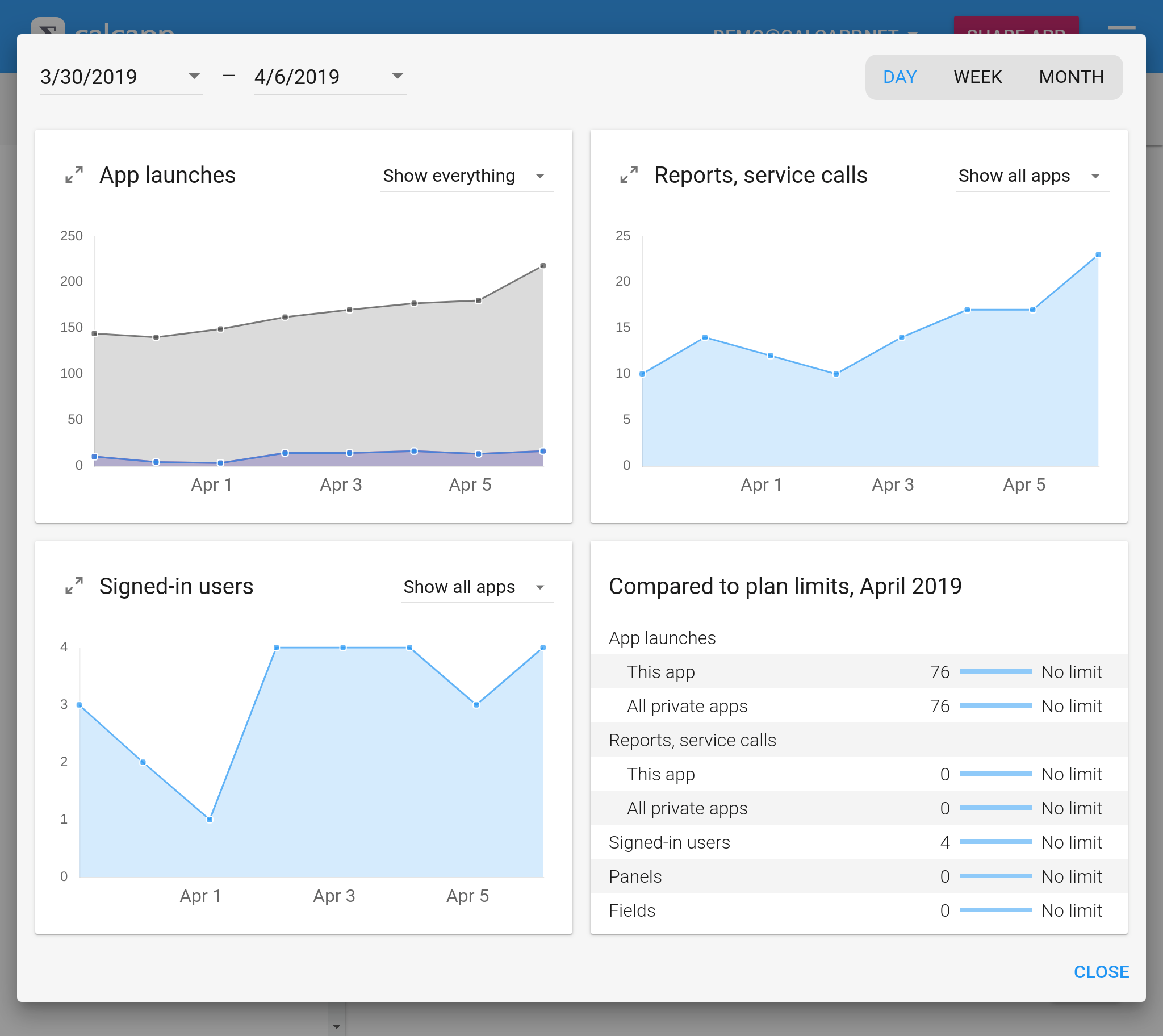 What happens if we go over the monthly plan limits?
If you go over the plan limits and you're on a paid plan, your app will continue working normally. We will, however, likely reach out and ask that you upgrade to a more capable plan.
Apps on the Free plan stop working when you hit the plan limits and only resume working once a new month rolls around.