Selecting a plan
Were you brought here by an app that has recently stopped working? If so, the person who created the app must put it on a paid subscription plan by following the instructions on this page. If you need help, please get in touch with us.
You have unlimited access to Calcapp during your trial period. To ensure that your published apps continue working after this period, be sure to sign up for a paid plan before the trial's end date. (Need your trial period extended? Let us know.)
Apps you don't put on a paid plan are automatically on our Free plan after your trial ends. These apps remain fully accessible through Calcapp Creator (our app designer) and Calcapp Connect (used by app creators to run their own apps). This means that personal apps will continue to run through Calcapp Connect.
However, published apps need to be on a paid plan.
Many users duplicate their apps in order to create backup copies and save archival versions. App copies are by default on the Free plan. This means that you can make an unlimited number of copies of your apps at no extra cost.
Upgrading to a paid plan
To upgrade, open your app in Calcapp Creator. Then, press the Change plan button in the inspector: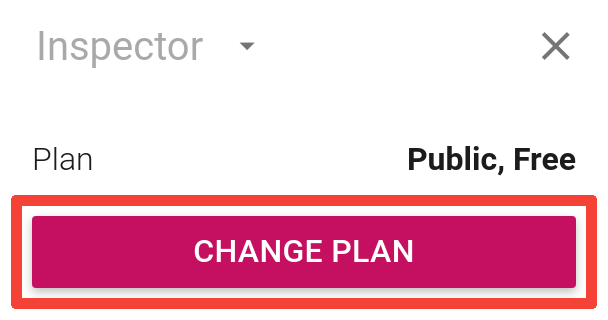 This window is shown: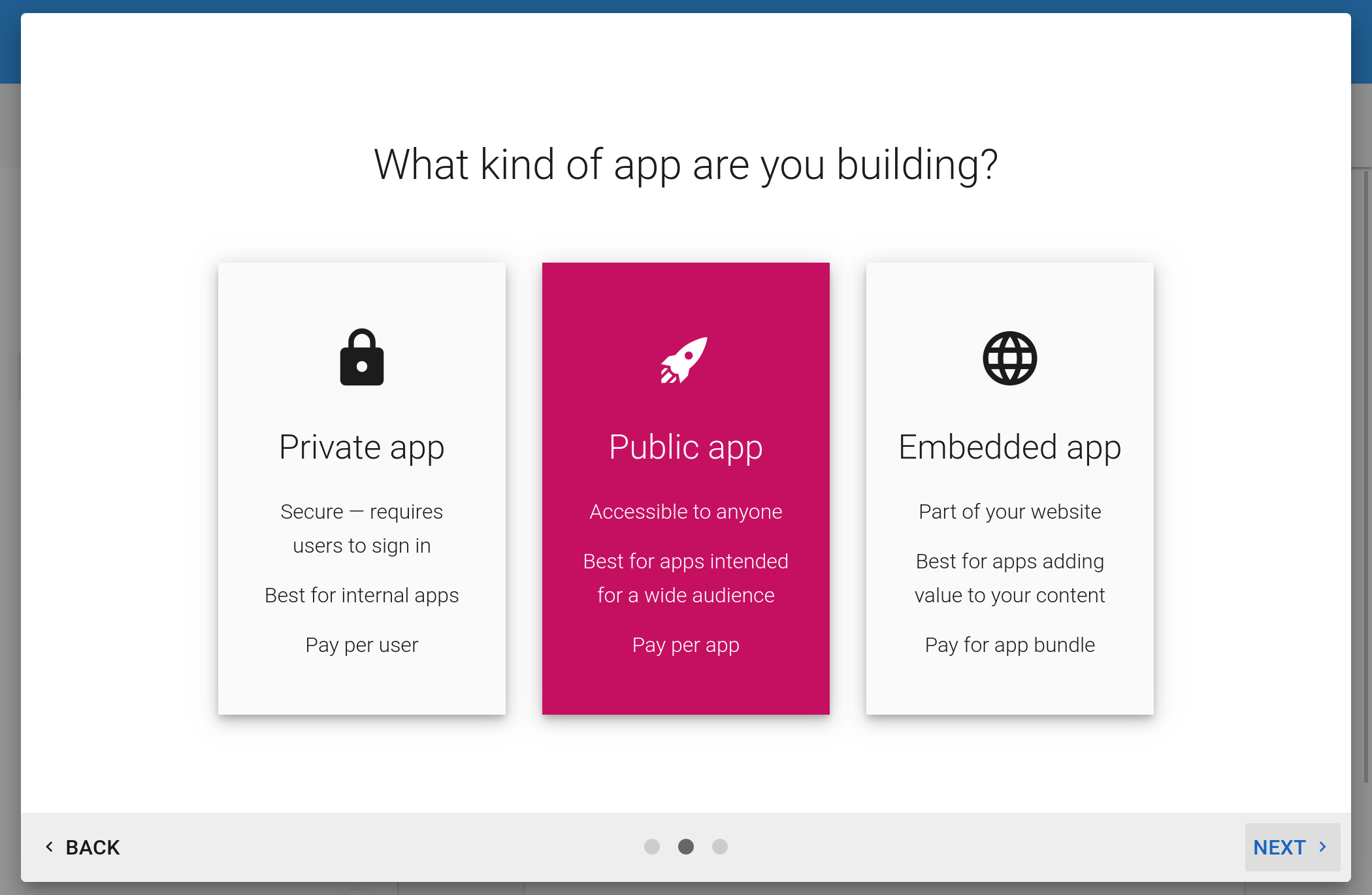 Private apps require your users to sign in before gaining access to your app. Public apps are accessible to anyone with the app link. Embedded apps are meant to be embedded in your website and cannot run as standalone apps.
With public apps, you pay per app. With private apps, you pay per user and can use an unlimited number of apps, meaning that all private apps share the same private plan. For private apps, we only count active users (defined as "having signed in at least once during a single calendar month"). That means that if you define 100 users, but think that only ten or fewer users will sign in during a single calendar month, you only pay for ten.
Similarly, all embedded apps share the same embedded plan, but that plan limits the number of embedded apps that can be put on it. (Private and public apps can also be embedded, but the embedded plan is more cost-effective for sites with many apps.)
Press Next and select your plan, the currency you want to use and whether you want to be billed monthly or annually. Here are the plans for public apps: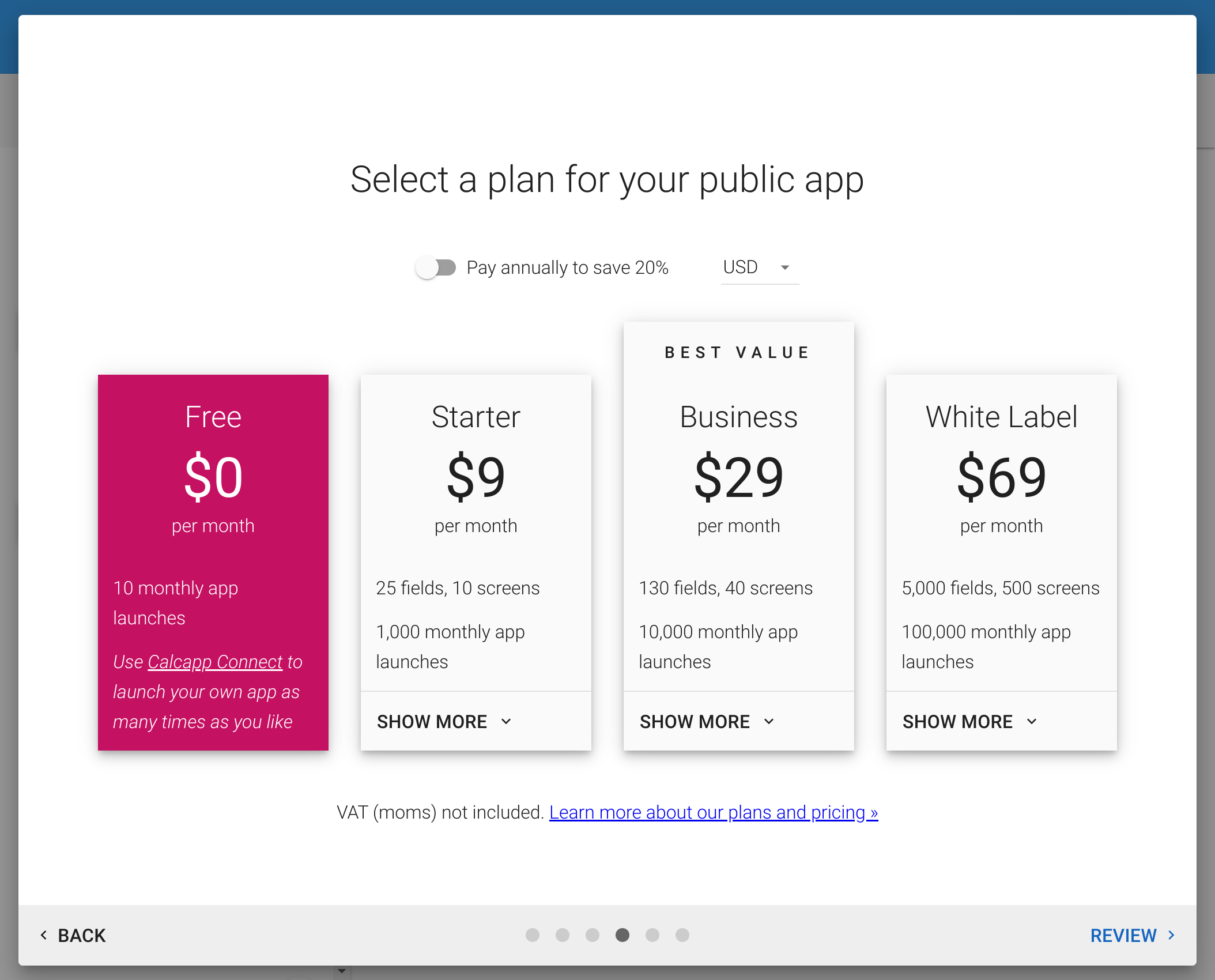 Plans differ in terms of the number of monthly app launches, reports and service calls they support. (A service call is a call to a third-party service like Zapier that can help your apps integrate with services like Google Sheets, Slack and Trello.) They also differ in terms of how many screens and fields they support and what extra features they offer. (Hidden fields are not counted.)
The Starter plan is great for simple apps used by small teams with a small number of fields and screens. The Business plan is right for the vast majority of apps and allows for much bigger apps which can be launched more frequently and support sending a larger number of reports. The Business plan also supports buttons in apps, as well as our data editor for importing spreadsheet-like data.
Our most capable plan, White Label, is for apps which are larger than allowed by the Business plan and where you want to control all branding aspects. (Apps on the other plans mention Calcapp in the apps themselves.) The White Label plan also allows you to run action formulas.
If you're interesting in making a very large deployment or have other needs that go beyond what our current plans offer (such as running apps from your own data center, extended support needs or you require a service level agreement), ask our sales team about our corporate and enterprise plans.
After pressing Next, you are asked to provide your billing details: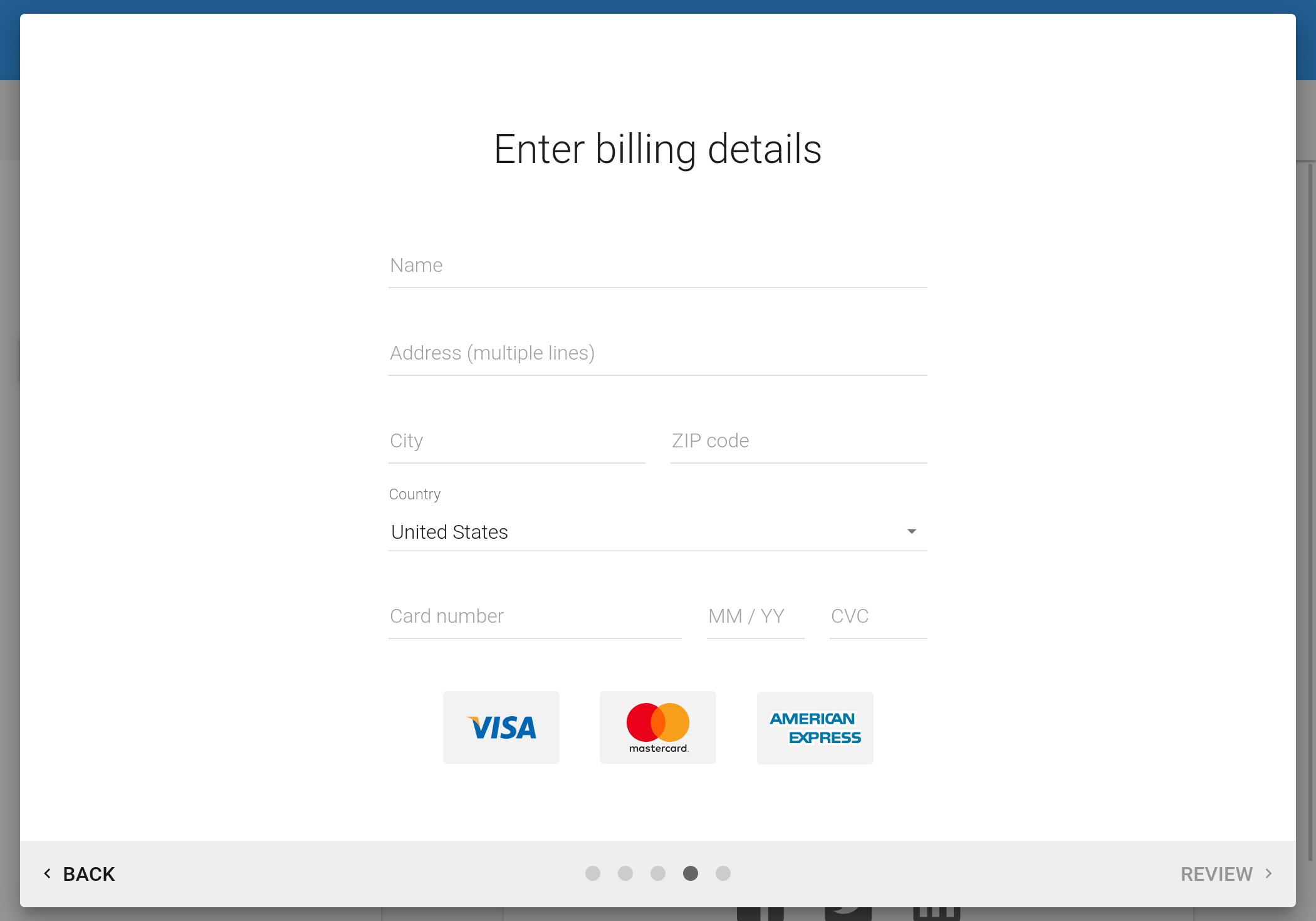 Make sure you enter your VAT number if you represent a business in Europe to prevent VAT from being added to your bill. Also, if you have a coupon code, enter it in the top-right corner (not shown above).
We are not privy to your credit card details. This information is collected by our payment provider, Stripe, and not us. (While those fields appear to be part of Calcapp Creator, they are hosted by Stripe.)
Your credit card will only be charged once your trial ends. To view your invoices, select View invoices… from the main menu
Finally, press Next to review your changes: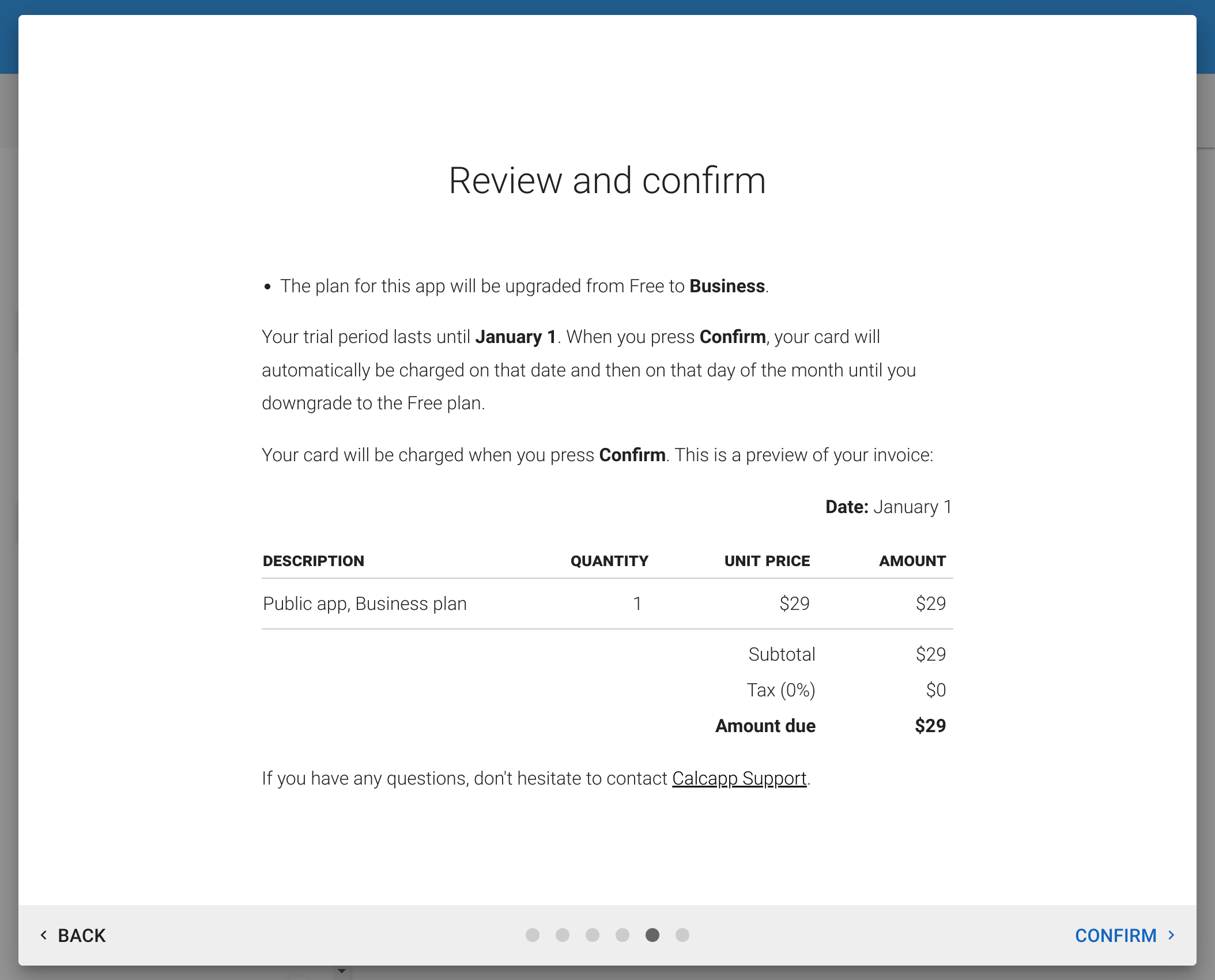 If everything looks good, press Confirm to confirm your order. If you have any questions, let us know.
Using statistics to determine what plan is right for you
Use the Statistics window to determine the number of times your app is launched and the number of reports that are sent during the trial period: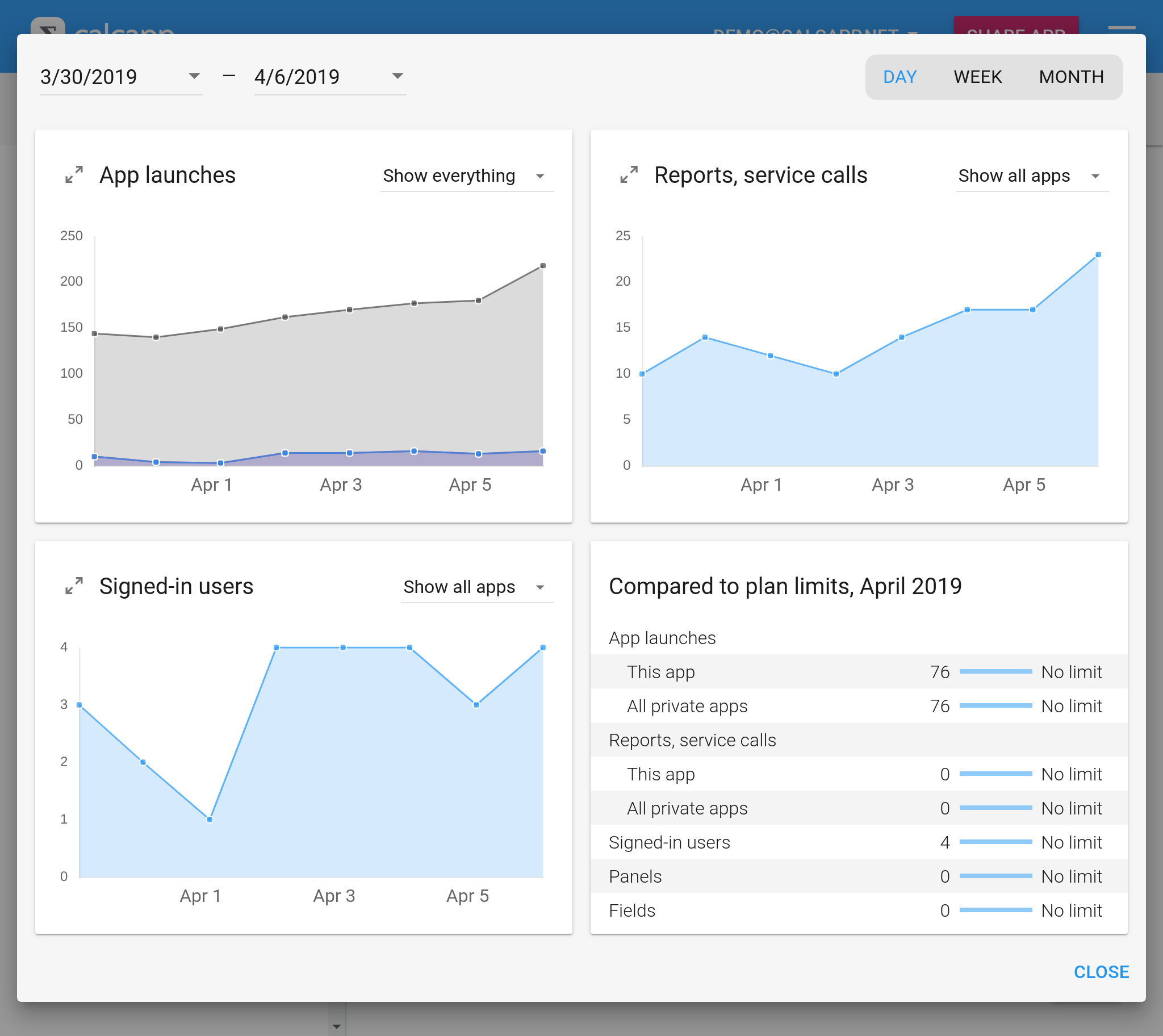 You can use this information to determine what plan is right for you. If you go over the plan limits and you're on a paid plan, your app will continue working normally. We will, however, likely reach out and ask that you upgrade to a more capable plan. (Apps on the Free plan stop working when you hit the plan limits and only resume working once a new month rolls around.)
The statistics window has a wealth of information to assess how your app is doing. Use it to measure your app's popularity or determine, say, the number of sales inquiries sent through your app.
The first quadrant reports the number of times your app has been launched. The second quadrant tracks the number of times that reports have been emailed, opened or a service call has been made. (A service call occurs when your app contacts a third-party service, such as Zapier, to do things like insert a row in a Google Sheets spreadsheet.) The third quadrant tracks the number of times users have signed into your private app.
The fourth and final quadrant compares your current usage to the monthly limits imposed by your app's plan. This is a great way to keep track of usage and upgrade your plan before you hit the plan limits, or to downgrade if you're paying for an unnecessarily expensive plan.
Having learned about our plans, you can read our blog, which includes in-depth tips and detailed looks at our features . You can also read about advanced formula usage »